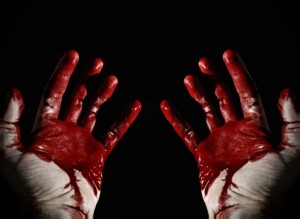 My paradise shattered before my eyes, the gently flowing stream morphed into a pool of red. The joyous cheers into pained sobs, and the small puppy I had been petting into the mangled corpse of my girlfriend. I stepped back horrified at my red hands and the image of my son sobbing in the corner bloody and beaten.
"My god… oh god… no. No!" I screamed out as I realized I had done this, I had killed the woman that meant everything to me. I had destroyed the one and only thing I had ever given to this world.
"How… no how?" I heard the drop of my tear upon the ground over the now raw sobs of my son, but I never felt the warm liquid. With shaky hands I reached to touch at the streams of liquid upon my face, I could feel the slippery wetness, but the tears felt hollow nonexistent, but drops kept echoing around the hollow room.
"What is happening to me? What the hell is going on? Ahhh!" I screamed and screamed until my voice was raw and almost gone. I buried my head in my hands and sobbed, the tears felt wrong but all I could think of was what I had done. I backed away from the growing smell of blood, and when my back hit the wall behind me I slid slowly down.
Once I had no more tears left to cry I looked up, I tried to stand but my legs wouldn't cooperate, I fell back to my butt. With the sudden shift of my body I lost what was left of my lunch, as I felt the bile rise up and into my mouth it didn't burn, it didn't even taste as bad as it had before as it fell to the floor beside me. I could barely think now, my head was spinning, my whole body ached, and I still felt the soft whimpers rack through my body. My vision blurred and I fell to the side right into the pile of what was once the meal my girlfriend had cooked.
"Natalie! Natalie! Natalie… Nat…a…lie." My voice grew weaker and weaker and at the end cracked as one final sob racked my body as I fell into unconsciousness.
I awoke felling no better to the sounds of and ambulance and a laugh. This was no normal laugh, it echoed through my head, my hands went to cover my ears and I tried to curl up. The laughing persisted and strong hands griped my body as I heard the sounds of people frantically speaking. It was as if I was under water, the sound was muddled and I couldn't make out what the voices were saying. The laugh continued but grew colder and more distant.
One voice, one almost familiar voice came above the others, even the laugh paled in comparison to the new voice. As I listened to the yells of this new voice my head became clearer, my vision less blurry and the laugh to a muted echo. I knew that voice but I couldn't place it, then one word, one name filled my head.
Natalie.
As soon as I realized who the voice belonged to, my vision cleared fully and I could see the natural greens of the river bottom all around me. The frantic voices became clear, one was trying to calm someone down, "you have to stand back Mam, let the doctors do their work." Another called out medical procedures, "forty cc's AntiProfine." But there was only one I wanted to hear.
"Tory! Tory, baby are you ok?! Come back to me Tory!" I did my best to look to the side and standing just behind a line of yellow police tape I saw her, she immediately quieted as I stared into her eyes. I couldn't keep the smile off my face, whatever that nightmare was she was ok, not a scratch on her. I could feel the wave of sleep overtaking me again, but as I left this world I say a single happy tear role down her face.